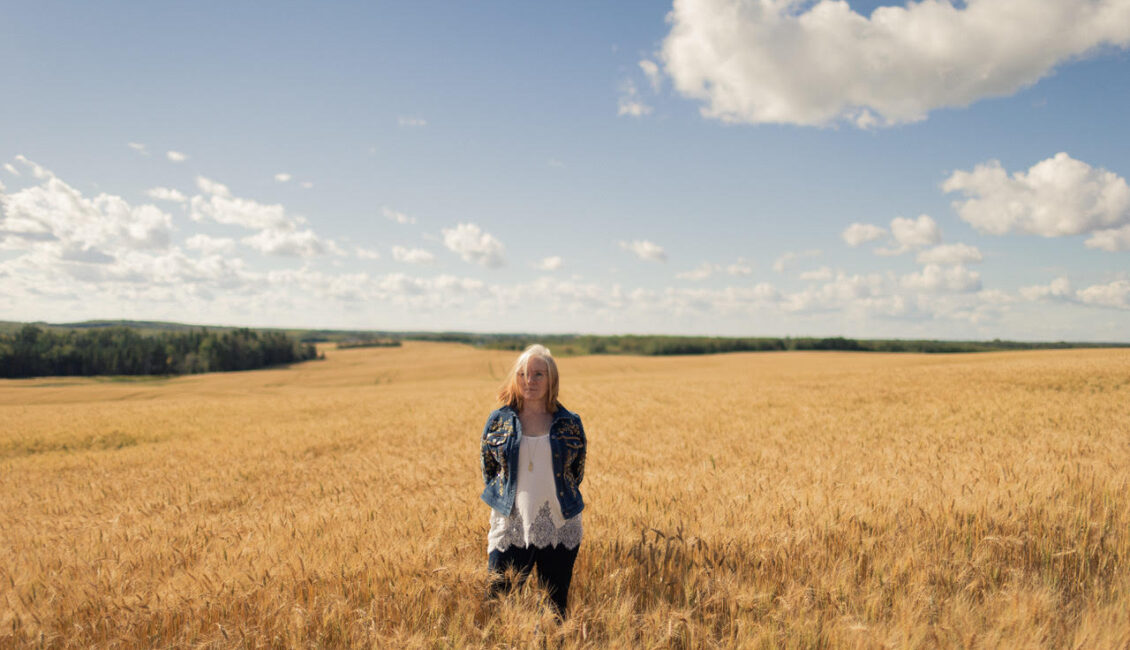 Crystal Plamondon is originally from Plamondon, a village in northern Alberta founded in 1908 by her Franco-American great grandfather. Crystal is a very talented bilingual author, singer-songwriter and performer of great talent. In her thirty years in the business, her track record delivering consistently challenging performances with passion, ranging from sentimental ballads to country rock and traditional Cajun music. Whether she is surrounded by her electrify five-piece band, an acoustic band, or covering jazz classics as she does in her sixth album and shows in her sixth album and show "TORCH" Crystal always manages to rally the audience.
Her talent has taken her on numerous tours in Europe, Africa and North America. Where her musicality has charmed audiences in intimate venues and made thousands of people dance and sing in large amphitheatres and festivals on both sides of the Atlantic.
She was the recipient of the Molson Canadian ARIA (Alberta Recording Industry Association) Artist of the Year Award, being honour with a nomination for the Tribute to Women Award for Arts & Culture. In addition, the Louisiana village of Pont Breaux, a Cajun stronghold, made her an honorary citizen.
Crystal's second solo album, "Carpe Diem!" (1993), gave her a breakthrough in France with two songs, "Capitaine" and then "On va faire le rigodon," both of which reached #1 on the French charts. This was followed by two other CDs, "La Rousse Farouche" in 1996 and "Plus de frontières/No Borders" in 2002, which combined original compositions and interpretations of various hits. Her CD "Plus de frontières" earned her a nomination for a Western Canadian Music Award in 2003 in the category "Best Francophone Recording." She has also recorded two music videos, one in her adopted home of Louisiana and the other in her native Plamondon. Crystal also made a name for herself on television by hosting the variety show "Country Max" in 1997-98 on the specialty channel Musimax the sister station of Much Music in Toronto, and Musique Plus in Montreal. Crystal also had the honour of singing on Parliament Hill in Ottawa for Canada Day and translated and performed the song "Famous Five Anthem" at the unveiling of the "Women Are Persons!" monument in front of the Canadian Parliament on October 18, 2000. In addition to her numerous television, film, radio and stage appearances, Crystal has also hosted a special program entitled "Passeport Musique" produced in Benin and broadcast on Radio-Canada in 1998, as well as on the BRAVO channel. In 2004, she received the Sylvie Van Brabant Award for "Excellence in artistic creation in Alberta." The following year, Crystal played the lead role in the UniThéâtre/National Arts Centre production of the musical comedy "Cow-Boy Poétré," which toured the Maritime Provinces and Alberta, following a series of performances in Ottawa.
Crystal wrote, performed and emceed the 2005 Alberta Scene Gala at the Canadian Museum of Civilization Theatre. That same year, she participated in the documentary "Alberta Bound" produced for the Alberta Centennial celebrations and broadcast on CBC, filming in Louisiana and Plamondon. In 2007 and 2011, she performed in front of a live audience in Edmonton at the Leonard Cohen Festival. In 2009, she fulfilled the expectations of her audience by releasing her fifth CD, "On a Song & a Prayer." Crystal produced this 13 song recording herself, 10 of which are her original creations. Three of the songs, "Forever More," "Only Dreaming," and "The Bridge" will be featured in the popular CBC television series "Heartland." In May 2009, Crystal was awarded the CHFA Alberta Song Award. January 2010 marks the wonderful beginning of a new year for the artist. She performed with her band in Calgary during the Olympic Torch Relay ceremonies and sang the national anthem. In March, she fulfills a dream with the release of her sixth album, "TORCH," featuring jazz, classic pop and Edith Piaf. In February, Crystal returns to Louisiana where she participates in the recording of a documentary series on the roots and rhythms of country music. Produced by Connections Productions, which was presented in 2011 on ARTV and later on SRC. Also, in 2011 she marks her third appearance and song for the CBC television series "Heartland" which marks its fourth season and for the fifth season listens to Crystal and her song "Saving The Best For Last." In the fall of 2015 Crystal releases her seventh album "Half Gospel, Half Heartbreak" produced by herself and her guitarist Gord Matthews. In 2019 Crystal returns to the theatre to be "Simone" in the Unitheater production, "Simone and the Whole Shebang." She continues to write in French and English, perform, and make appearances when she loves meeting people! A real one!